No place has come so far in so short a time as Cape Town. A generation ago, it was struggling with apartheid's dark legacy and a tarnished reputation. Today, it's bustling, with chic restaurants and celebrity tourists. Patrick Symmes reports from a city that's learning to cope with the shadows of the past while keeping an eye on the glittering future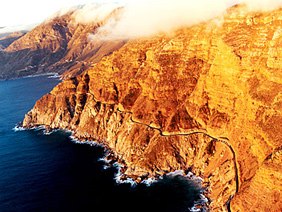 It is true what they say: the hardest part is going back down. Around 6 p.m., when I finally clambered out of the shadowed Platteklip Gorge and stood near the foot of Table Mountain, looking down at a Cape Town all gilded by sunset—five hours, 3,200 vertical feet, two sandwiches, a salad, one espresso, and an excellent half-bottle of Stellenbosch white wine after starting out—my knees were ready to surrender. The brilliantly clear autumn day was ending fast, and on my left, an orange light picked out the last cable car of the day swiftly descending from the mountain's summit. I'd bought the ingredients of my elaborate picnic lunch at the summit station, but I'd had the climber's disdain for the car's crowds of women in high heels and men who looked at their digital photos of the view rather than at the view itself. And so I'd forgone a ride down to eat alone, gazing out at 270-degree ocean views.
Broad, gray, and flat-topped, Table Mountain has been Cape Town's signature landmark since the city was founded in 1652. South Africa is an arid country, and Cape Town's founders squeezed their city into the narrow coastal band between the sea and the steep, verdant slopes because of the mountain's ability to wring drinking water from the clouds. To my left, I could see the vast Cape Flats townships and the jagged peaks of the Twelve Apostles Range running south toward the Cape of Good Hope. Straight ahead, rising from within Cape Town itself, was sharp little Signal Hill, a popular hike for sunset views. By 6:30, when I reached the end of the trail and trooped down the access road to the cable car's landing station, the parking lot was empty except for a dozen taxis. I was the drivers' last chance for a customer that day, and the feeding frenzy was good-natured, a session full of laughter and quick jokes.
"Sir," the ringleader of the cabbies announced in a thick Afrikaans accent, "you are very tired. It is forbidden to walk anymore today."
I declined at once. It was partly the price: Cape Town taxis charge more than a dollar a mile. And it was partly the beauty of the evening. I'd exchanged a muggy spring in New York for the crisp, breezy autumn of Cape Town, and from the taxi stand, I could see the whole city laid out like a map: at the center, the verdant rectangle of the Company's Gardens; then the straight spine of Long Street, the eclectic epicenter of Cape Town nightlife; even the small and plush Cape Cadogan Hotel—the corner of my bathroom, actually, where I planned to soak my knees in the huge tub very, very soon. But it was mostly ego that sent me off on foot: The hotel was less than a mile away, and having come this far, I needed to see the day through. I set out alone, on foot, into the increasing dark of one of Africa's most spellbinding cities.
Once I was in the quiet streets, though, I wondered (as I always do) if it was wise to travel this way, taking no counsel of my fears. On the other hand, this was the new South Africa, changed in a single generation from a pariah state to a beacon of hope, an evil empire reborn under a new flag. In this South Africa, epitomized in so many ways by Cape Town, tourism is booming, with European visitors up seventy percent in the last five years. But despite a diverse slate of high-profile American enthusiasts—including comedian Dave Chappelle, photographer David LaChapelle, Ashley Judd, P. Diddy, Brad Pitt, Alicia Keys, and Oprah Winfrey (whose O Magazine maintains an office here)—the country attracts few U.S. citizens. Outdated visions of apartheid are partly to blame, as is the expense of the long flight (although the dollar's strength against the weak South African rand actually makes the country a bargain), but the city's reputation as a crime capital has also proved a deterrent.
Fortunately, there wasn't much time to worry whether walking had been the right decision. After ten minutes, I asked the first person I saw where I could find Kloof Street, a busy little strip of restaurants and bars.
"This is Kloof Street," he said, stomping his foot on the pavement.
Two blocks later, I walked into the Café Vespa, a chic tapas bar where Cape Town mods park their scooters outside and trade insights about the long wine list inside. As I climbed onto a stool, the bartender looked from me to the sandstone mountain, now illuminated against the black sky by spotlights, and smiled warmly. Had I walked the whole thing?
"Up and down," I said.
"You must be chuffed," he replied. I had no idea what this meant, but I was happy to be rewarded with a generous pour of chenin blanc. An end-of-day drink, or sundowner, is a South African tradition, and from my perch, watching the night creep in and the city light up in response, I felt as though my own cares and trepidations, as well as the long shadows of the old South Africa, were dissolving into the dark.
South Africans have long called Cape Town the Mother City of the country. Named Kaap Staad by the Dutch, it was the first European settlement in southern Africa, a fresh creation in the wilderness. Loose and tolerant, a crossroads of sailors and traders, whites and Africans, it has always been a diverse city—and, therefore, a threat to the country's segregationists, who instituted apartheid rule in 1948. It took half a century of bitter battles and many casualties before apartheid was officially abolished in 1994.
Cape Town has long been derided by residents of tougher cities, such as Johannesburg or Nairobi, as too pretty, too soft, the least African place in Africa. For good or ill, all of this is true. There's no denying Cape Town's beauty, and it remains the only city on the continent where Africans are a minority (the largest group of the city's 4.5 million inhabitants are Coloureds, Afrikaans speakers of mixed race). Blessed with fresh water and two oceans, Dutch gardens and English tea, Cape Town in recent years has been surfing a powerful wave of social reconciliation, cultural rebirth, and economic expansion. It is as close to an Africa without tears as one can find. Capetonians, in particular, are thrilled that every year seems to bring them better news. This is their moment: Today, the global spheres of art, fashion, tourism, politics, jazz, and sports all seem to be converging on the Mother City en masse.
The city is all but surrounded by the winemaking towns of Paarl, Stellenbosch, and Groot Constantia. Southward, the coast is lined with tiny crescent beaches and dotted with chic suburbs such as Clifton and Camps Bay; up-country, roads clinging to the steep Twelve Apostles Range lead to quiet and charming satellite towns like Hout Bay, on the Atlantic side of the peninsula, and trendy Kalk Bay, on the warmer Indian Ocean side. Just a two-hour drive south, through an enormous nature reserve, is the Cape of Good Hope. Baboons roam the reserve's parking lot, and jackass penguins cry out from their beach burrows. It is, all of it, part of Cape Town's heady mixture: great social challenges matched with a relentless bath of creature comforts, enormous promise against a backdrop of tragic history.
That history lies in plain view. Like virtually all visitors to Cape Town, I started my exploration of the new South Africa by taking a look at the old one, in the form of Robben Island, the prison where Nelson Mandela served eighteen years for the cause of conceiving a new country. Every day, the ferry from Cape Town's revitalized waterfront brings several dozen visitors to the island, which lies just two miles offshore. Most of Robben is now a nature reserve, inhabited by penguins and springbok, the small antelope that is South Africa's national animal. But the heart of the island is a small, rusting fortress of a jail that closed in 1996. Nowadays, former political prisoners give guided tours, showing visitors where the country's future leaders (including one of South Africa's current Supreme Court justices) were forced to break rocks in the hot sun, to sleep on rattan mats on the floor, to discuss their political programs in whispers, to share their meager meals of corn mush and bread.
Our guide, Derick Basson, had served four years here. "I was charged with sabotage," he answered when asked why he'd been jailed. "But I don't know why. It should have been arson, because that is what I did. I helped burn down a rent office, because this was the face of the government in our township." Basson was remarkably free of bitterness, urging the two dozen people in our group—a mix of English, Australian, German, Dutch, American, Japanese, and Afrikaner visitors—to think and speak of reconciliation in South Africa, and to return home to spread the word that a new country has been born.
"Revenge never put any food on my table," Basson said, as he showed us the tiny cell where Mandela slept on an even tinier cot. "Revenge never got my children a better school."
Even the hardest heart must melt in the face of this generosity. The wisdom of this idea, of leaving the past in the past, left me speechless. It has been a long time since I saw a place where so many people so fervently believed that things which had been so wrong in their country for so long were now reversing themselves, that the country was doing right by itself and its citizens. In a kind of reverent silence, the other visitors and I filed back onto the bus and then the ferry.
That sense of forgiveness is what Robben Island is for, David Mosely told me later that night. A Cape Town native, Mosely is a writer whom I'd met over a late dinner at the bistro in the Hippo Boutique Hotel on Park Road. We'd arranged to meet again, and so he'd picked me up at the imperial Mount Nelson hotel—I was much too cool to be impressed that Colin Farrell, Tiger Woods, and South Africa's own Charlize Theron are regular guests—before driving me off toward the De Waterkant neighborhood, home to the Mother City's cutting-edge nightlife.
"Now that you've been to Robben Island, you can enjoy yourself," David told me as we settled into Tank, a cool blue restaurant located just across the street from three nightclubs and steps from the Nose Bar, one of the city's best places for a glass-by-glass tour of South African vineyards. Tank specializes in the country's bounteous seafood, especially sushi, but David sheepishly ordered his favorite—seared steak—and a glass of 2003 Allesverloren Shiraz before reflecting with a wry smile on how a visit to Robben Island had become mandatory for tourists. Student groups, foreigners, even politicians like Hillary Clinton are taken out to the prison, to return home magically inoculated against bitterness and pessimism.
Between bites of monkfish, which was wrapped in pancetta and served on a bed of seafood risotto, I confessed that I had been worrying more about the city's present than its past. It was true, a better South Africa had been born, but severe difficulties remain—most pressingly the AIDS epidemic, which, though increasingly addressed with cheap antiretroviral drugs, is devastating the country: One in eight South Africans is infected with HIV. And while Cape Town's popular new police chief says that he has begun an aggressive crackdown, street crime rates are still outrageous. Unfortunately, if visitors take all the overlapping safety advice they are given, they will never leave their hotels. Whether walking down from Table Mountain or strolling in Bo Kaap, the colorful Malay quarter that resembles a kind of South African Santa Fe, I found it hard not to worry. Yet walk I did, every day—from the harbor docks, to the top of Table Mountain, through the long and lush Company's Gardens, which were laid down by the Dutch nearly four centuries ago. I walked Kloof Street to Long Street and wandered, carefully, through the side streets, admiring the Cape Dutch architecture that so neatly mirrored what I had seen in both Amsterdam and New York. Was I crazy?
David shrugged. "Muggings," he said, "can happen anywhere, in any large city." More important, though, talking to David helped put the risks in perspective. The South Africans I have known are used to facing down very large problems indeed. Having evaded decades of dark predictions of social collapse—and now grappling with AIDS and widespread poverty—they have a certain insouciance about day-to-day challenges. A friend from the East Cape once told me of coming home late at night from a party to find one of the world's most poisonous snakes in his bedroom. He put a cardboard box over it and went to bed.
David told me about the surfers in False Bay, where I'd spent an afternoon in a bar dedicated to Che Guevara, watching as a crowd of at least forty people lined up to catch the waves. "False Bay has more than warm water and good surf," he noted. "It is one of the world's best places to spot great whites. Tour boats leave the docks every day, painted with slogans like MONEY BACK IF YOU DON'T SEE A SHARK.
"A kid just got chomped last week," David added, gnashing his teeth for effect. "He lost his leg. And a lady disappeared recently while swimming out there. All they found was her bathing cap, washed up on the beach."
Still, the surfers kept riding their boards. After AIDS, crime, and all the other African heartbreaks, the one-in-a-million chance of encountering a shark seems abstract, almost meaningless. Likewise, if you have seen Robben Island and the terrible vision of what South Africa could have become, then a good piece of steak and a spectacular shiraz are a sort of inoculation, a way of appreciating the good while not ignoring the lessons of the bad.
Optimism is an adaptation mechanism for young South Africans. At twenty-five, David was part of the so-called "born free" generation, who were allowed to grow into adulthood in a democratic country, a normal nation with normal dreams. South Africa's economy has been expanding steadily over the past decade, and the stock market, like the export market, is booming. Two hundred thousand new jobs have been created in the city in the last four years, making Cape Town a magnet for immigrants from across Africa and even Europe. The country's African National Congress (ANC)–led government has doubled-down on its bets, encouraging economic expansion and spending massively on housing and programs to combat AIDS. South Africa's president, Thabo Mbeki, has occasionally stumbled in his handling of the AIDS crisis, but he has also won tremendous credibility by cracking down on corruption in his own government, famously declaring, "I don't care how many years you spent on Robben Island."
For David, all of this meant one thing: He was, he said, "chuffed." This turned out to mean excited or thrilled, and it is the all-purpose word for South Africa's present mood. Like young Eastern Europeans, young South Africans think of the dark past as ancient history. David has a busy career as a writer and a steady paycheck, and he is part of a burgeoning cultural scene that is drawing people from all over the world. He described the incredible feeling of peace that had come over him recently while he was sitting at an outdoor concert amid thousands of people, black and white. The sun was setting on the mountains, and everything seemed right with the world. "I thought, this is it," he said. "This is the place for me. The mountains, the music, the wine—everything just came together. It's all happening right now."
Black South Africans can also begin to dream. About two million people have become what are known as "bappies"—booming, aspirational, and previously poor—by securing regular paychecks and climbing out of dire poverty. There is a new cycle of ambition at work: Bappies with jobs leave the remote townships for the city centers, reducing the cost and the length of their daily commute. This in turn increases the hours free for work, which increases income, which reinforces the trend toward greater earnings, greater spending, and greater futures.
Long Street is a good place to see this quiet miracle. An eclectic mix of downscale funky and upscale chic, it is the party capital of Cape Town. Block after block, the streets are lined with an oddball assortment of cafés, bars, bookshops, design emporiums, tattoo parlors, and street vendors, crosscut by pedestrian walkways and tiny alleys, like the one that lead to Miam Miam, the city's trendiest lounge. David had called Miam Miam "impossible to find," but I stumbled upon it by accident the next night while investigating an alley barely wider than my shoulders. The bar was completely white (the decor, that is!) and packed with a crowd of white Macy Grays and black Paris Hiltons, all drinking champagne. They wore the global club kid uniform of rhinestone glitz and blue jeans with lingerie. As in London and New York, the young men of all races were drinking Red Bull cocktails. There is no hope for some people.
A block away on Long Street, I ate a late dinner of springbok and smoked crocodile at Mama Africa, a legendary restaurant that is still springing to the beat of its all-drum orchestra after thirty years. Here, and on the streets outside, the easy sense of social openness among blacks and whites, underscored by the presence of interracial couples and their multiracial children in strollers, was a quick lesson in how much South Africa has moved beyond old prejudices and my outdated expectations. When I settled into a booth at the relaxed Marvel, a small Long Street bar known for its DJs, I saw every kind of person in the city there. Young white men in their army uniforms and black university students, foreigners with cameras and locals in punk rock mufti. Everyone seemed to be living in the present, ready to forget future difficulties or those they had already survived. I sipped a bottle of locally brewed cider and watched as three people who had gathered around the foosball table tried to recruit a fourth, calling on one person after another, regardless of class, color, or clothing. Eventually, desperate, they managed to recruit me, the American in their midst. Everyone was in.
But you only have to look up from the delights of Cape Town to see that many things have not changed. Sweeping in from the airport by taxi, you cannot ignore the rows of shanties and huddled shacks that line the highway. Known under apartheid as "locations," these townships constitute life in the Mother City for almost three-quarters of Cape Town's residents. A full three million people live in these informal settlements, a belt of poverty that is separated from the core of "European" Cape Town by the bulk of Table Mountain but whose presence informs all of the city's hours.
To consider the townships is to recognize how much our expectations for South Africa have changed. Writing about Cape Town in his 1983 novel The Life and Times of Michael K., South African writer (and Nobel laureate) J. M. Coetzee envisioned a grim future for the Mother City, her population trapped in a race war, her infrastructure crushed by riots, economic collapse, and cruelty everywhere. A quarter of a century later—a historical instant—the only issue at hand is how far and how fast Cape Town, and South Africa, can continue to move in the right direction.
Perhaps it's not surprising that even the country's sprawling townships, once considered no-go areas, have become major tourist attractions. Soweto, outside Johannesburg, receives well over a thousand visitors a day, and when I set off on a standard minibus tour of Cape Town's townships on my last morning in South Africa, it often seemed as though my fellow visitors and I were part of an invading tourist army. At our first stop, the lovely and modest District Six Museum, there was barely enough parking for all the visitors. Inside, we learned how the apartheid government, in the final throes of paranoia, had demolished this inner-city neighborhood, forcing some sixty thousand people to move out to the townships, so infuriated were the politicians by the casual racial mixing that occurred there. Our guide, Faried Fakier, took us next to Langa Township, ten miles away, where many from District Six have settled. Brightly colored shacks, cobbled together from scavenged boards and corrugated tin, stretch almost to the horizon, but Faried, who himself lives in Langa, is proud of the transformation sweeping through his community. Cape Town's mayor, Nomaindia Mfeketo, is from Langa too, he boasted, adding that the squalid housing units created by apartheid are being torn down and replaced by modern apartment blocks. It was true: Everywhere we went, construction crews were working furiously. The ANC government has made township housing its single highest priority, expanding a crash program that is on schedule to replace every substandard shack in South Africa with a modest cement dwelling, equipped with running water and electricity, by 2014.
It's not clear what will happen to Faried and the township tourism business then. In another township, filled with Xhosa people and called Gugulethu ("Our Pride" in Xhosa), we stopped to visit a traditional healer but were crowded out when two more microbuses filled with tourists pulled up behind ours. In Bonteheuwel, a Coloured, Afrikaans-speaking township, we stopped at an apartheid-era barracks, where four families were crowded into crude rooms meant for half as many people. As we were leaving, we had to make way for an incoming group of Italians. Then, led by Faried, we marched across the muddy street to see one of the new houses, in which each family will have three well-equipped rooms. Our hosts were forced to wave us away: Six Austrian women were already crowded into the living room, perched on the beds and chairs, marveling at the upgraded kitchen.
Our last stop was a muddy alley lined with shebeens—a Gaelic word meaning "illegal," it somehow made its way to the townships, where it was adapted to refer to any small dirt-floor bar. We settled onto the benches that lined one shebeen, joining four elderly Xhosa men who were conversing quietly in their language, a mix of round vowels and back-of-the-mouth clicks. The beer we ordered, made from sorghum and millet, was low in alcohol and was served in a single galvanized pail that held a couple of gallons. The odor—something akin to rotten tamarind—was enough to scare off most of the tourists in my group, but a shy New York police officer joined me in having a taste.
Using two hands, we passed the bucket, which was capped with an impenetrable head of foam six inches thick. I tried tilting it toward me, but the liquid just sloshed onto the ground. The NYPD veteran stuck his face in for a sip but ended up coating his nose with brown bubbles.
Finally, one of the Xhosa men spoke in a rapid burst of clicks and demonstrated the proper technique. Lowering his lips to the rim, he blew a delicate breeze across the surface, parting the foam. That gesture—a combination of patience, infinite care, deliberate skill, and traditional grace—made the impossible suddenly seem easy. That is Cape Town, a city where the future is being assembled every day, carefully, attentively, right before your eyes.
"Quick," the policeman said, urging me to go first. I leaned in for a long draught, vacuuming up the beer. Then he did the same. The Xhosa men watched, dignity struggling with amusement on their faces.
I left the townships after that, and later that night, South Africa. And while I can't say I'll be ordering sorghum beer again anytime soon, I took with me the name of an inexpensive little shiraz that I know will have me chuffed in no time.
Related